East Troy friends revisit their past
Members of the ET Classes of 89 - 90 gather to share memories and make new ones.
---
On a cool afternoon in late September, nine alumni of Divine Word Seminary East Troy (classes of 89 & 90) gathered in Kenosha, WI. They came from Florida, Texas, Nevada, Indiana, Louisiana, Illinois, and Wisconsin. This much-anticipated gathering had been planned for several years, having been delayed once due to the COVID-19 pandemic.
After an evening of socializing and catching up over dinner and a few libations it was time to focus on the main purpose of this gathering. Early on the morning of September 23, the rental house we were staying at in Kenosha suddenly came alive with loud music and those familiar words from the past, "Bodies out of bed, time to rise and get ready for morning prayers!" This was to be a very special day. By 7 a.m., we all loaded into a rental van, coffee in hand, and began a three-hour road trip to Divine Word College in Epworth Iowa. The purpose of this field trip was to visit a priest who was very special to us during our time at East Troy, Fr. Bill Shea. During the road trip there was good conversation about memories from our time spent at East Troy, highlighted by a playlist of popular songs from our high school years.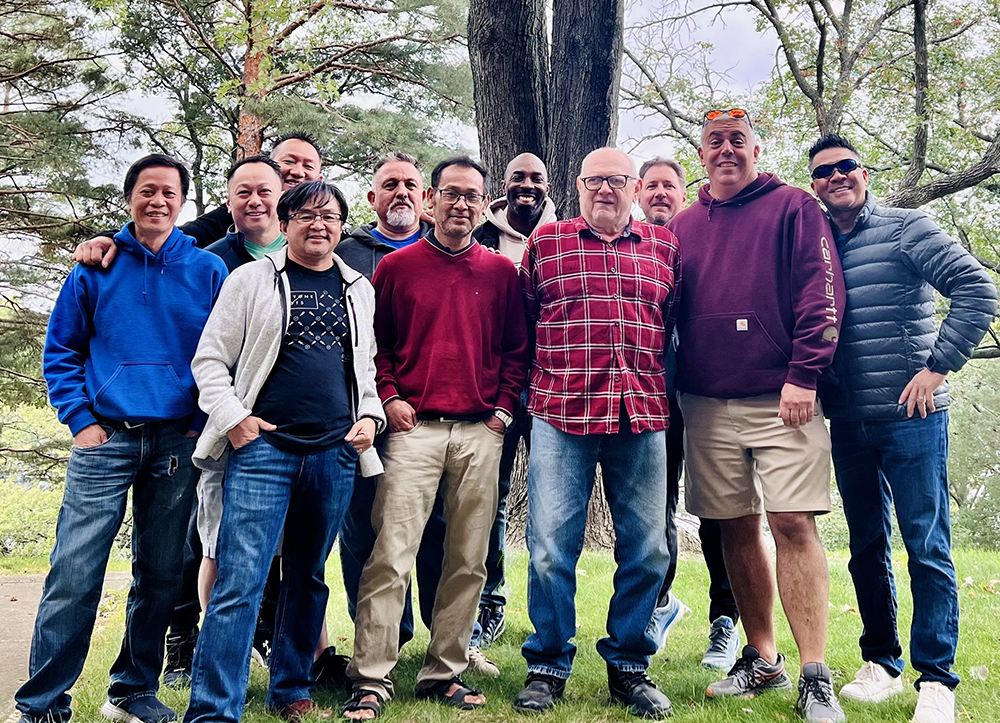 Back Row (from left to right) John Nguyen, Peter Le, Chris Olender, Larnzelle Harper & Steve Wisniewski. Front Row Du Nguyen, Tan Nguyen, Chinh Cao, Brother Bernie Scherger, Paul Loewen & Tuan Nguyen
Upon our arrival at Divine Word College, we were greeted by Fr. Thang Hoang, SVD, who graciously welcomed us and called the guest of honor, Fr. Bill Shea, who many of us had not seen in person for close to 30 years. There were many joyful greetings when we were finally joined by Fr. Bill. We were surprised that he remembered all our names until the comment was made that "the bad kids are always remembered." A few memorable stories were told as we shared a delicious lunch with the Divine Word College students and staff.
After lunch, Fr. Thang and Fr. Bill took us on a guided tour of the campus, during which we were happy to see some familiar faces from our time at East Troy – Fr. Sam Cunningham, Bro. Brian McLauchlin and Bro. Tony Kreinus. The highlight of our visit was a private Mass celebrated by Fr. Bill. This Mass brought back many good memories of our years of formation at Divine Word Seminary High School in East Troy. It reminded us of how those years had brought us together, encouraging us to celebrate our unique cultures, to celebrate our diversity as brothers in Christ. Soon it was time to say our goodbyes and make the long road trip back to Kenosha.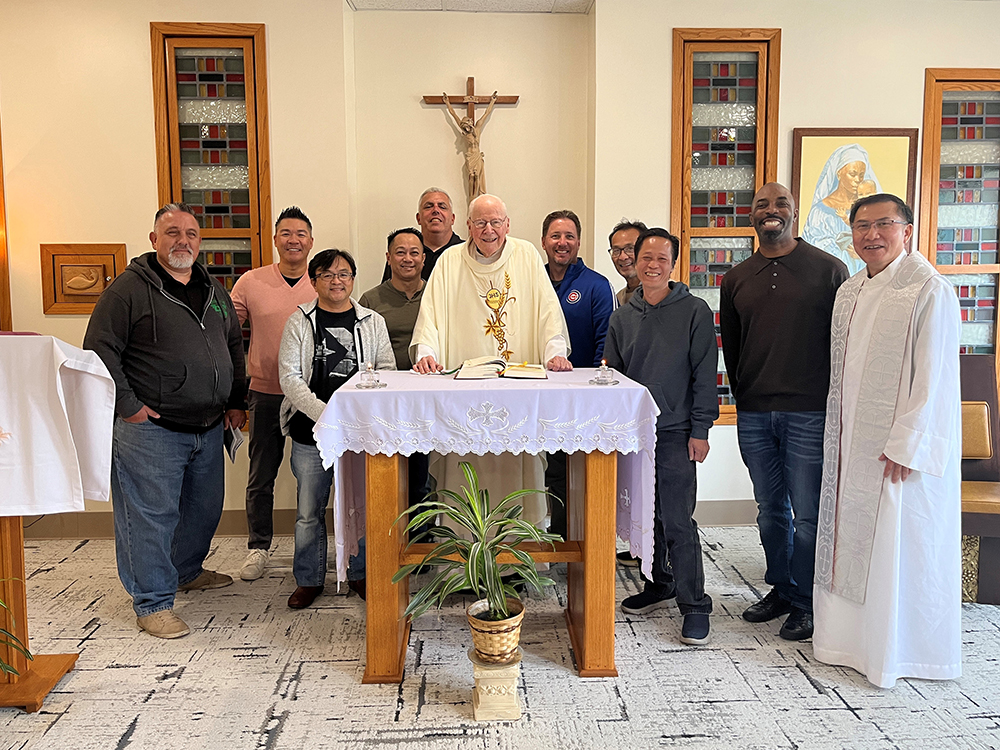 The following day, a second but much shorter field trip was taken. This time, we found ourselves on the winding country road leading to Divine Word Seminary in East Troy, Wisconsin. Some of us had not been back to East Troy since graduation or seen the grounds since many of the buildings had been torn down. We were amazed at how the village of East Troy had grown! Upon our arrival, many happy memories again came rushing back regardless of the absence of the buildings we lived and studied in. We were excited to talk with Bro. Bernie Scherger, gave us a short account of the various changes that had taken place since the late 1980s. Bro. Bernie also told us about the priests and brothers who were currently living at East Troy. After walking the grounds and taking a few group photos by the lake, we decided that a quick stop at Lauber's Ice Cream was a must before continuing our road trip back to Kenosha.
On Saturday evening, we again shared another meal together at our rental house in Kenosha. Although the spirit of brotherhood originally instilled in us by our time spent at Divine Word Seminary had never died, it had now definitely been rekindled as we discussed all we had witnessed and made plans for our next gathering, promising to keep in contact until we could meet again. We were also blessed to have several additional East Troy alumni from the Milwaukee and Chicago areas join us for short visits during our four days together.
---