Good News! Good News! Good News!
No matter how you write it, we have several items of good news to share!
---
Scholarship fully endowed!
The Fr. William Shea, SVD Scholarship Fund has exceeded the goal of $100,000 dollars. In fact, the scholarship fund now stands at $116,585! Thank you to all who have contributed. Your generosity will allow DWC to award two scholarships each year beginning August 2022.
This scholarship is a fitting tribute to Fr. Bill for his many years of dedicated service that will benefit students for years to come.
Five ordained to the SVD priesthood!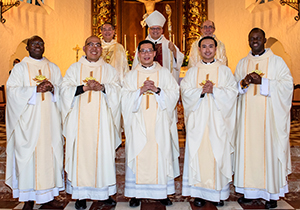 On May 22, five SVDs were ordained to the priesthood in Chicago. Fr. Edoh Adolphe Anato, SVD was commissioned to Brazil for missionary services; Fr. Minh Anh Dinh, SVD to Canada, Fr. Hai Ngoc Pham, SVD to the Southern Province, USA; Fr. Fransiskus Assisi Santoso, SVD to the Western Province, USA; and Fr. Akizou Gerard Kamina, SVD to Divine Word College, Epworth, Iowa.
Please continue to pray for our new priests as they begin their role as missionaries in the Catholic Church. Each one will share his unique gifts to bring about God's kingdom on earth.
Alumni gatherings are returning!
As our country slowly returns to normal, we will resume in-person alumni gatherings. Plans are underway for regional gatherings both in person and virtual. Information on gatherings will be shared as soon as details are confirmed.
In the meantime, if you and your classmates would like to organize a gathering, please contact us. Our staff are available to assist with planning, obtaining contact lists and publicizing your event.
It's been a long time since our alumni have been together and we look forward to renewing that missionary spirit!
---