It has been 27 years since our college graduation, but the funny moments and camaraderie we experienced during our years together remain fresh.
Whenever I get a chance to chat or talk in person with my college brothers and SVD formators, I always end up doing the Fr. Bob Kelly signature laugh. Yes, I have great memories that I will always cherish. I feel very fortunate to have been a formandus of Divine Word Missionaries for six years.
Not everything was fine and dandy, though. There were some dangerous and "you're gonna get it" times. In 1994, one of my musician buddies, Patrick Thomas, took me for a driving practice after I got my permit. We circled around Epworth a few times before deciding to stop in at Quik N' Handi for a beverage. I was feeling so confident with my newly learned driving techniques that my excitement took the best of me and I forgot to put the old station wagon in park.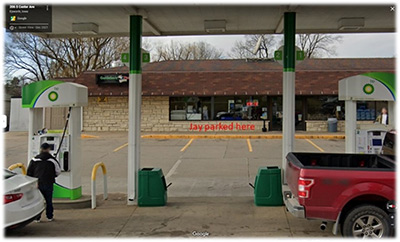 The actual location of Jay's "accident."
You can guess what happened. I "redecorated" the convenience store. So, yeah, if you heard about this infamous tale in town, that was true and that was me. Thankfully, I did not have to drive to court. Bro. Dan Holman accompanied me to the courthouse so I could declare my guilty plea and pay the fine.
Oh, did I mention the old station wagons? We used to fill each car with seven to eight students (maybe more) to split the per mile cost that students had to pay. It was like a party inside the only Asian store in Dubuque on some weekends. Good times!
I was engrossed with music. I took all the private lessons available in voice and guitar. Yes, I did sing and had my share of seminary fame in liturgical and theatrical presentations (wink). What's more, I was so into music that I invested all my allowance into two companies: BMG Music and Columbia House. Oh yeah! I was a proud CD collector and a faithful member of those two companies. I racked up every latest CD in their catalogs, baby. Hahaha!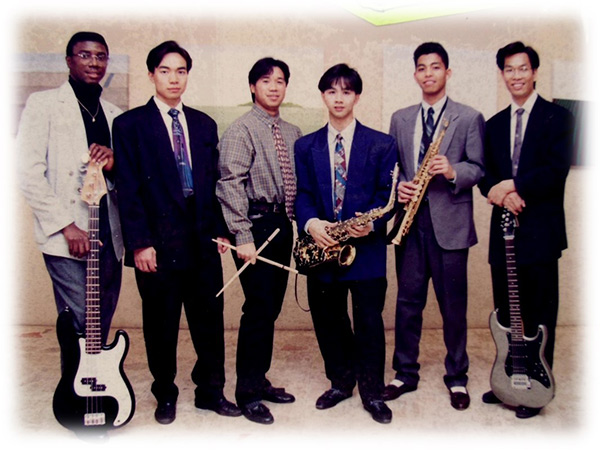 L-R Patrick Thomas, Tai Nguyen, Jason Aragon, Long Nguyen, me and Fr. Long Phi Nguyen (Circa 1994, Photo courtesy of Jason Aragon)
On a serious note, music has always been my favorite pastime. I've been so blessed to be exposed to great music-minded students during my time. I miss our jam sessions followed by the famous Pizza Factory visits or noodle parties in Megan Hall.
While few have chosen to follow God's calling, many of us followed different paths in our vocations. However, the values I learned during my years in seminary formation will always guide me to remember the marginalized that Divine Word Missionaries serve. In our own little way, those of us who didn't make it to religious vows still contribute to the mission and live in solidarity with the poor.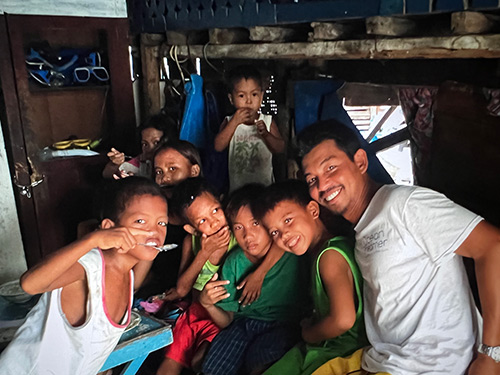 Olango Island, Cebu, Phillipines 2014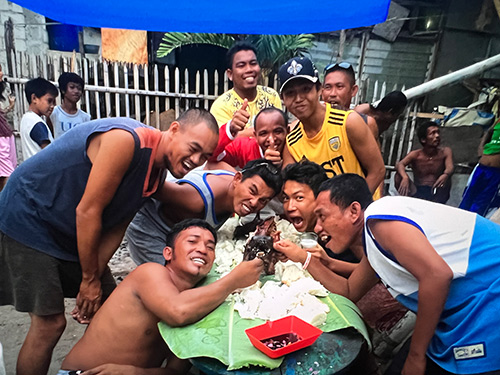 To this day, I'm still in touch with many of the guys I met during my time at Divine Word College. I currently serve Divine Word Missionaries through our Mission Center in Techny as Mission Appeals Coordinator and Special Projects Strategist.

Jay Jumao-as Canastra, MBA
Divine Word Formation Center – Davao, Philippines 1989-91
Christ the King Mission Seminary - Quezon City, Philippines 1991-93
Divine Word College – Epworth 1993-95